NEW LED Dance Floor and Wall Panels from T2K
LED Video Wall Systems
Call (818) 557 0903 E-mail Mark@t2k.com
Web - www.t2k.com - Burbank, Ca 91502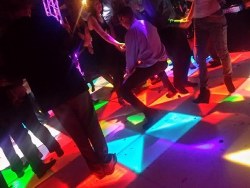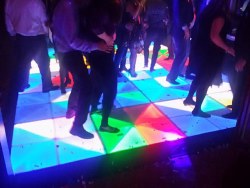 New - Low Profile - LED Disco floor!
ADD LED Stage Set Columns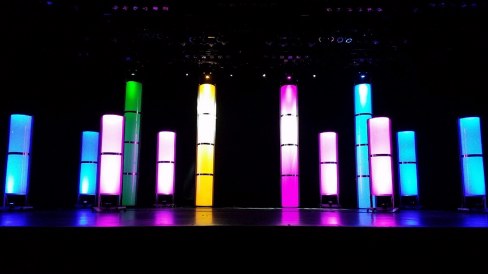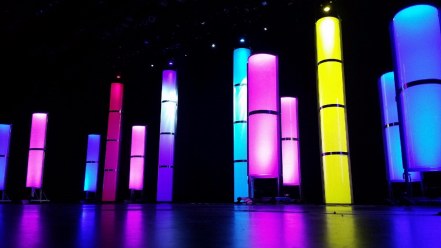 We have 4 x 20 ft tall hanging tubes and 8 x 16 ft floor mounted rolling structures -
back/up lighted with programmable color change LED - can be synced to floor colors
New LED Floor
Fever Floor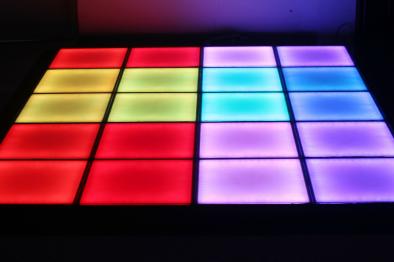 "Fever" GLASS STUDIO PANEL FLOOR
Similar to the original Saturday Night Fever Disco Floor
These panels are .6m x .6m (23" square) and have glass surface for super clean look. DMX -RGB programable, Interactive or random change.
Floor panels can be used without a controller and will provide automated sound activated flash effects.
If just a static color is required each panel can be set individually to a specific color value, without need of a controller.
A controller allows complete control over the colors, on/off, dimming, patterns and chase looks of the floor.
Each panel is 3-10 channels of dmx
2 3/4" high - we have 100 panels - enough for 20 ft x 20 ft floor. Available for rental.
1-11 Panels - $70 each
12-24 panels - $60 each
25-100 panels - $50 each
Black static Panels - $40 each
DMX Controller - $75.00 (Basic)
DMX Controller for PC or MAC software - $75.00
Package prices for Los Angles area:
16 ft x 16 ft floor - Shop rental - 36 lighted panels x $50
and 32 black panels x $40 = $3080.00 +Tax (Cert of insurance required)
Special for Spring 2021 - $2750.00 + tax (Rental from our shop)
12 ft x 12 ft Including delivery and Install
12 ft x 12 ft floor - Shop rental - 36 lighted panels x $50 - $1800 + Tax
+ Install, audio programming and delivery in Los Angeles $900 = $2700.00
Separate Delivery and Install - Takes approx 2 hrs. Must have flat installation area (concrete or carpet), rolling access for roadcases, 1 x 20 amp out let or 2 x 15 amp circuits, you provide 2 assistant for 2 hours in and 1 hours out $1200 - without your assistant $1600
You provide pickup and return and 2 assistant for 2 hours in and 1 hours out $500
Includes basic disco style sound to light flashing floor effects.
Total install and testing requires at least 5 hours. Ideally schedule set up for day before event.
For custom programming add $500 which will include DMX controller, specific styles, fades, colors and effect and 4 hours of program operator during event ($100 per hour overtime)
Custom programming time $125 per hour.
Next day pick up - add $400
Installation cost is payable seperately.
Important - For a standard party (Disco) event the floor can be controlled to change to any solid color (the whole floor) or fade between solid colors, and during dancing switch to sound active mode when all the panels will blink and change color to the music.
Custom Programming - If you need specific patterns, chases, cues for each panel or sections of the floor - we will need to assign each panel individually. In this mode pretty much anything can be done.
We need at least 4 hours to set up and program the floor. Ideally the floor should be set and tested the day before the event.
Set up must be on solid surface - concrete, level brick, carpet, decking or plywood base.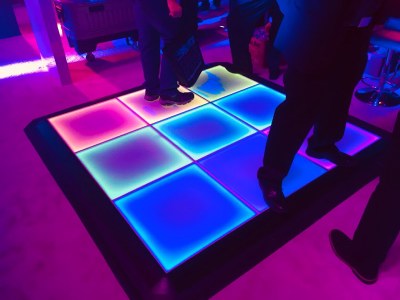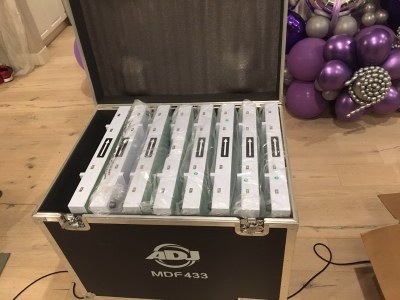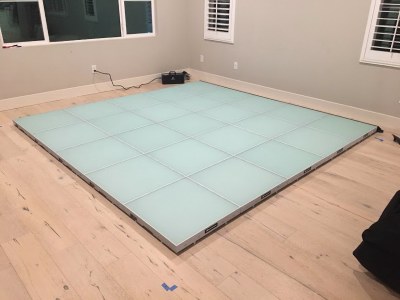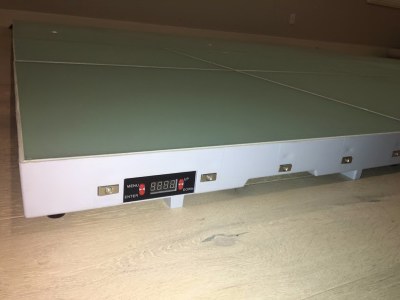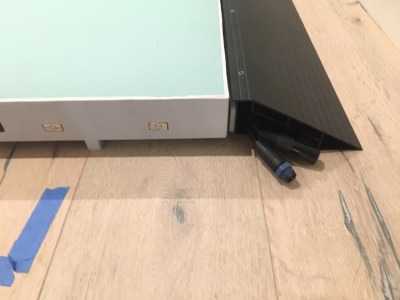 LED panels are loaded 9 pc to a case - each case is about 150 lbs - the panels click together magnetically (a leg lock block then ties the panels together) - the settings can be set for DMX control or for automatic color change - power is run down the edge panels - a power pack powers the low voltage panels.
Pics show 10ft x 10ft floor with the power edge ramp and power supply on one edge. The LED control panel. The power edge panel. Standard edge panels with attach to the other 3 sides.
Installation Instructions
Quick Start Sheet - Must read this.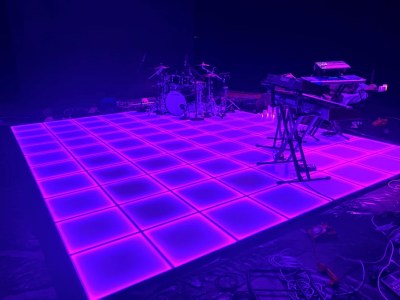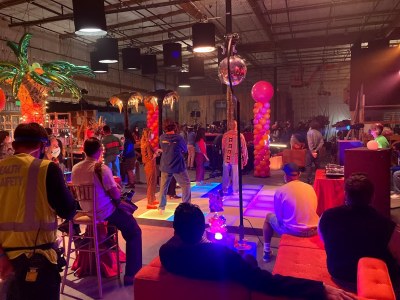 Left is a 20 ft x 16 ft Floor - Right is a 12 ft x 12 Ft Floor
Add a CURVED VIDEO DJ BOOTH and a 7x12 ft video LED screen - for the full LED / video dance floor system!
Other configurations available.
The floor is just over 1 inch high. 2x2 ft each square metal frame acrylic top jet black each machine polished after every gig. 120 squares. Up to approx 22x22 ft max size. Laptop controlled any color can be chosen multiple patterns. .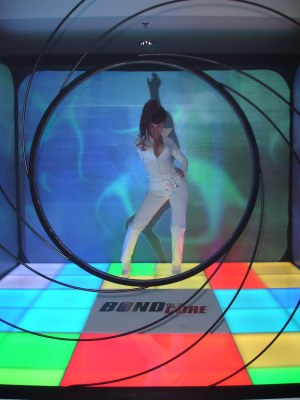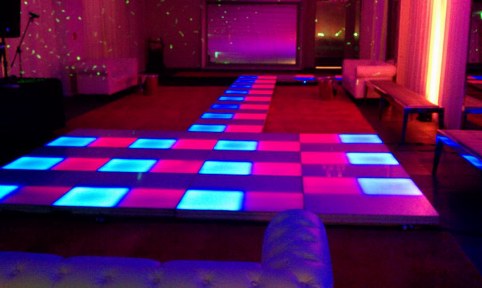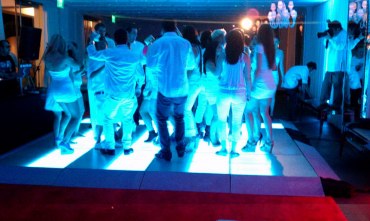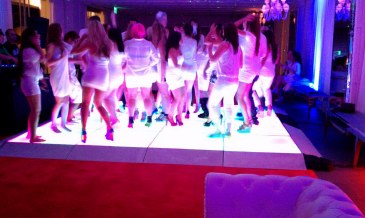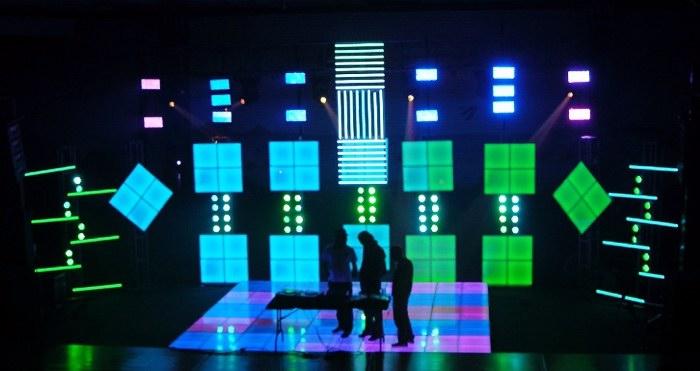 .6m x .6M square panels can be used for floor or wall/stage illumination - completely programmable to any color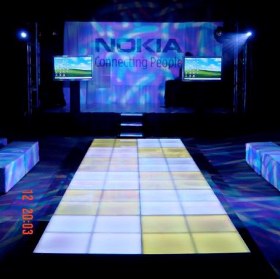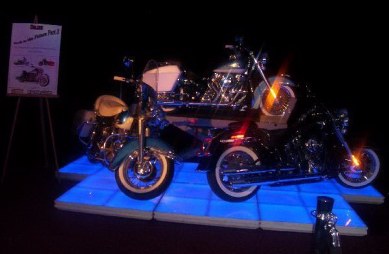 Use for VIP "Red Carpet" entry, static displays, dance floor etc.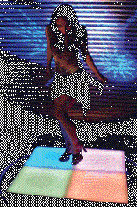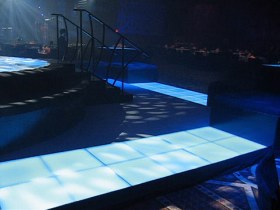 Low profile with beveled non-slip edging


The ColorPanLED lighting system offers endless color possibilities to modify your surrounding.

This system does not produce infrared and ultra violet light. Therefore, heat production is minimized, avoiding discoloration of objects being lit. This special feature gives the Alkalite LED lighting systems the flexibility for numerous types of applications such as architectural/ retail spaces, stage, productions, night clubs, art galleries museums and much more.

This solid-state lighting system has been designed for easy installation and safe energy efficient, long life operation. The combination of Red, Green and Blue LEDs offers a tremendous range of colors with smooth transitions from one color to the next.






RENTAL PRICING




All sections are roadcased and ready for shipment nationwide. Floor can be installed by any experienced lighting personnel and are programmed and adressed the same as any standard LED lighting fixture. Set up crew can be provided locally and nationally at additional costs.




Discount applies for multiple day shows/shoots

Call for rates on larger or smaller sizes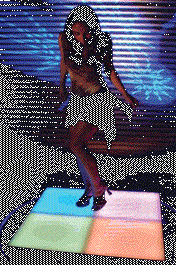 Each section of each 1m x 1m panel can be individually controlled for color, dim, on/off - allowing a large floor to be programmed with complex chasing patterns, color flows, chases or even letters/logos.
The panels can also be used vertically for wall or stage edge displays.
High Tech non-slip edge risers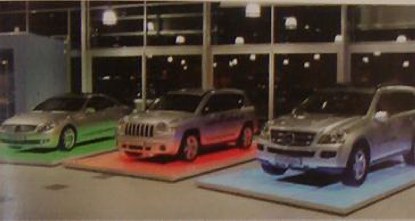 Floor will hold substantial weight
Cambered edge pieces available
APPLICATIONS FOR LED PANELS
Auto Showroom Displays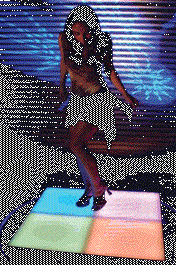 Dance/Gogo Pod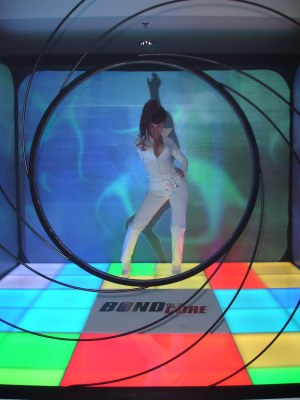 Photo Shoots / TV Commercials / Music Videos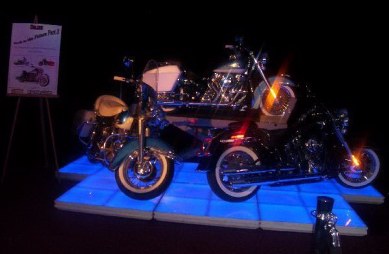 Tradeshow Booth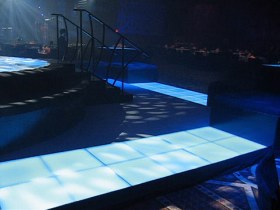 Fashion Runway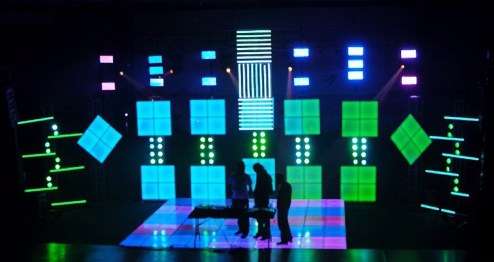 Stage Set with vertical panels and floor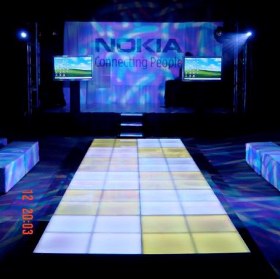 Industrial Tradeshow Presentation Stage
LED Video Panel Wall
Super lightweight - Free standing or fly from truss - 4.8mm pitch - high brightness - 2 hr install
Panels are 1m x .5m - any configuration - delivery & Install
Competetive pricing - concert series discounts
Party Event Special 6x10ft free standing screen on riser - Delivered in LA area $2500.00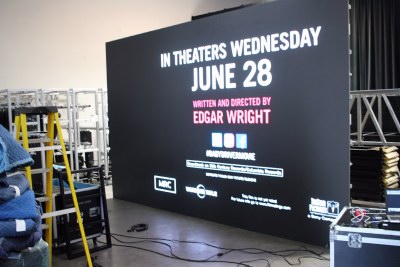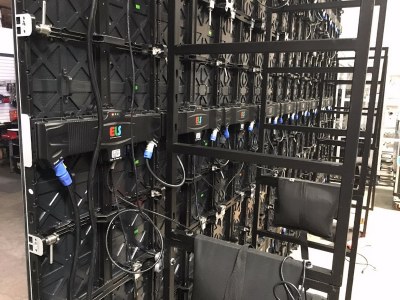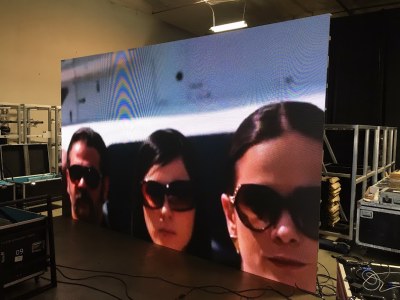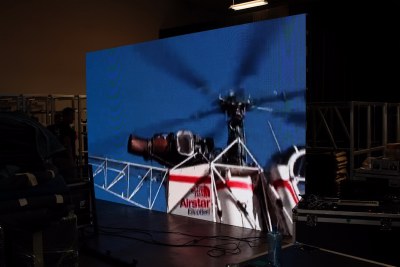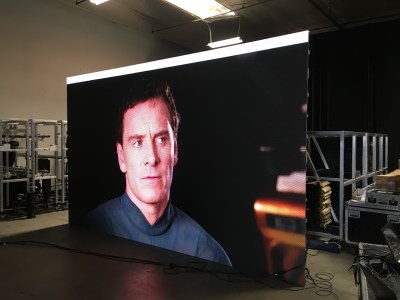 9 x 16 ft wall shown in pictures
Also available - Disco Balls to go with your floor!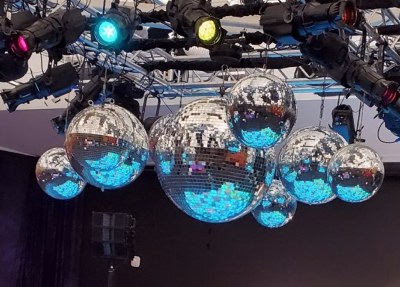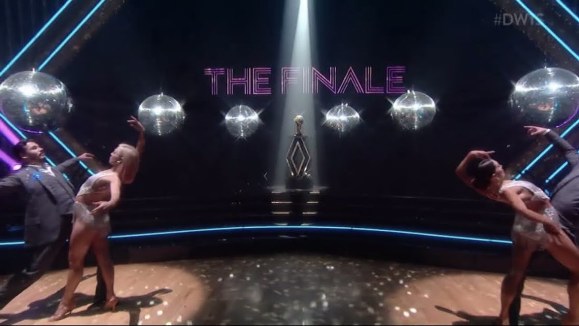 Call T2k at (818) 557 0903