Cable Ramps and Cable Crossovers - Los Angeles, California.
Cable Ramp Shop
CAMRAMP-5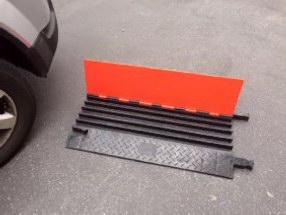 Just In - over 1000 pcs NEW PU 5 ch cable ramps - compatible with Yellow Jacket, Guard Dog, Bumble Bee etc -
$159.00 each - ask for large quantity discount
Lightbroker Cable Ramp - 20 ton capacity
$159.00 each (See quantity pricing below)
Weighs only 21 lbs. Polyurethane - NOT smelly rubber!
3ft x 20" x 1.5H
Also identical XL (Xtra Lite)version in Yellow on Black - weighs 16 lbs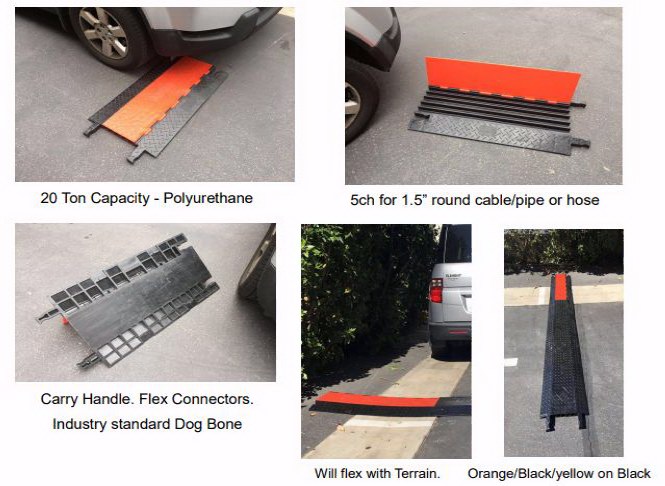 5 channel cable ramp - 21 lbs
36" x 20" x 1.5" high – 20 ton capacity
5 channel – 1.5" cable trough
Polyurethane construction – carry handle – NOT RUBBER!
Dog Bone connector Compatible with other ramps.
$159.00 Retail Price
Ask for dealer and quantity pricing
Red/yellow or black on black - plus Blue, Green andtan by special order
Replacement ramp covers available seperately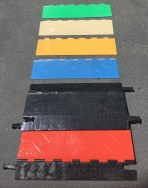 Grip Trucks, Theaters, Construction, Stages, Concerts,
Productions & Events
Special disc for 50+ pc order
Specify Red on Black or Black on Black!
Seperate replacement covers also available (swap orange to black) $39 each
*Note: We will add freight on seperate order
or you can arrange will-call from Burbank, Ca. 91502
Min Order 2 pcs - freight to be added
Call for freight quote
Cable Ramp Shop - Lightbroker - 215 W Palm Ave, Burbank, Ca 91502